Dell Technologies World - my story so far
2018 has absolutely flown by so far. I'm really not sure where it's gone, but it's May already. May for me means the beginning of the conference season, and I actually managed to sneak in one prior to May as I spent a week in Atlanta a couple of weeks back for VMware's Empower technical partner conference - I meant to blog about this while there but I was just too busy and didn't find time.
I'm currently out in Las Vegas for Dell Technologies World, and it's just over halfway through the second day as I write this.
The conference is again held at the Venetian, the same venue as last year's DellEMC World (and I believe previous EMC World events, but I didn't attend any of those so I can't be sure). As a conference venue it's fine, but if I'm honest Las Vegas is not my kind of city. I suspect this will be my final trip here, as the place is just too noisy and tacky.
Dell EMC exams are free for the first shot at the event, so I kicked off Day 1 with one, sitting the VxRail Deploy exam. I've not done a great deal with VxRail, but as Michael Dell and Pat Gelsinger both keep talking about it I figured it was worth a shot. Sadly, despite reading through all of the documentation I could find I didn't pass, so this kicked things off on a sour note. I expect that if I was doing deployments I'd have done better but as my role is now a lot more architecture than deployment I don't think I'm going to bother retaking this one.
Keynote-wise I didn't really feel that there was anything amazing from Michael Dell and crew. There was plenty of bigging up of the Dell Technologies businesses, and some case studies that felt very similar to last year. There was plenty of messaging about data and artificial intelligence: "if AI is your rocket ship, data is your fuel" being one of the more popular quotes. A day on, and about the only other thing I can recall from the keynote was that you can now run Isilon on Google Cloud, and that nerds are the new rockstars (and I'm starting to get really tired of hearing that at this stage, must be the early mornings making me cranky!)
Sessions-wise I had a couple of breakouts - the first was an introduction to Kubernetes by Dave Strebel from Microsoft - as someone who has only recently started to learn about K8S I thought this was pitched just about right, but I was chatting to some others who were in this one over lunch and they found that they'd become lost after the initial "what is a container?" section. The room was absolutely packed for this session, and Dave absolutely rocked it.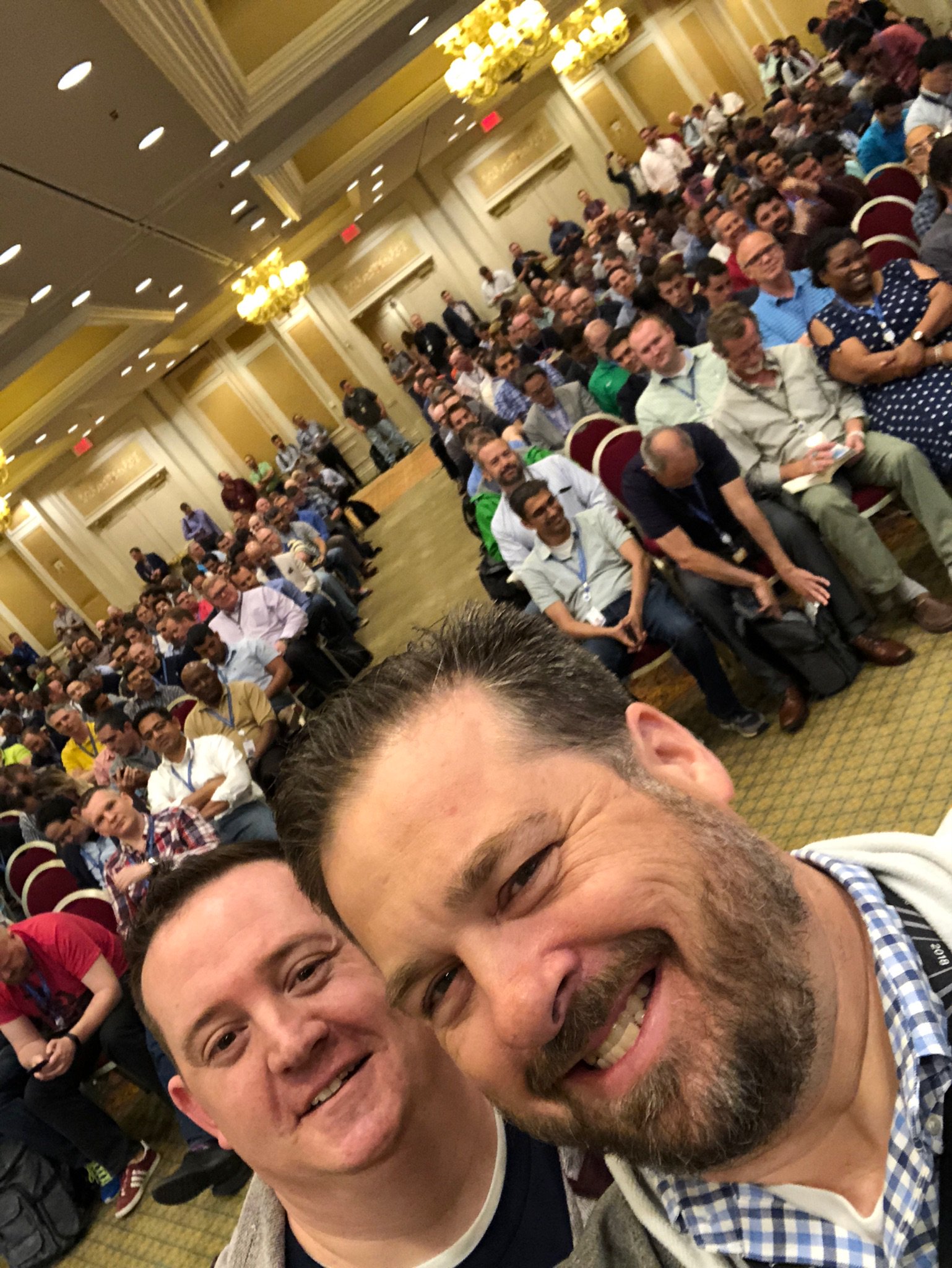 After this I moved on to a VxRack SDDC session which had been billed as an advanced technical session. I stuck around for about 15 minutes before leaving, as I was learning nothing that I hadn't read on the product website. Conference sessions that list themselves in this manner when they're thinly veiled sales pitches really grind my gears.
After that I took a wander around, chatted to some new and old friends and then got hit by the curse of the conference lunch so headed back to my hotel to let the curse work it's course. After a couple of hours I headed back to the Venetian to take a walk around the Solutions Expo which had just opened. The Solutions Expo was predictably full of Dell EMC stands, and there didn't seem to be too many other vendors. I blasted around, spoke with a couple of vendors over a beer, then I headed off for a couple of parties and then bed.
I woke this morning feeling like a bear with a sore head, but I had another exam booked in for 8am so I hit the gym at 6, breakfast at 7 and then dashed to the exam centre to sit the Dell EMC Midrange Storage Technical Architect exam. I do a fair amount of work with both SC and Unity as part of my job, so I wasn't overly surprised (even though I hadn't done the recommended training) when I passed. The exam was pretty decent, and had a good spread of questions for both product lines, and if you're working with this technology on a regular basis you'll likely not find it too tricky either. I certainly found it much easier than the Isilon Technical Architect exam I sat last year, though this could easily be because I haven't really done much with Isilon.
This started off the day a lot better, and my first breakout session carried on in this manner. Andrew Clay Shafer from Pivotal was chatting about Site Reliability Engineering, and his obvious passion for the subject plus a lighthearted, occasionally comic presentation style meant that everyone in the room was engaged, and I'll certainly be reading the O'Reilly book of the same name when I get home (it's been on my desk for about 9 months, to be fair...)
Following that there was a session about operationalising Kubernetes for day 1 and 2 ops - if I'm honest I was disappointed in the chat, it didn't really deliver on the promise of the title and the presenter wasn't great.


To bring you up to where I am presently: Building Out Multi-Cloud Microservices With Cloud Foundry. This was a great session with 2 ladies who are clearly very passionate about Cloud Foundry (and teapots), a subject with which I'm not overly familiar. It's piqued my interest, and I'll certainly be adding it to my list of New Stuff To Learn More About.
Onwards to tomorrow: I'm starting off with another exam, and hopefully I'll be in a good place when I write my next blog!